WE DRIVE: HONDA CIVIC FD2 TYPE R
13 August 2012| Review by: Ashraf Parker. | Photos: RaceMasteR J.
< back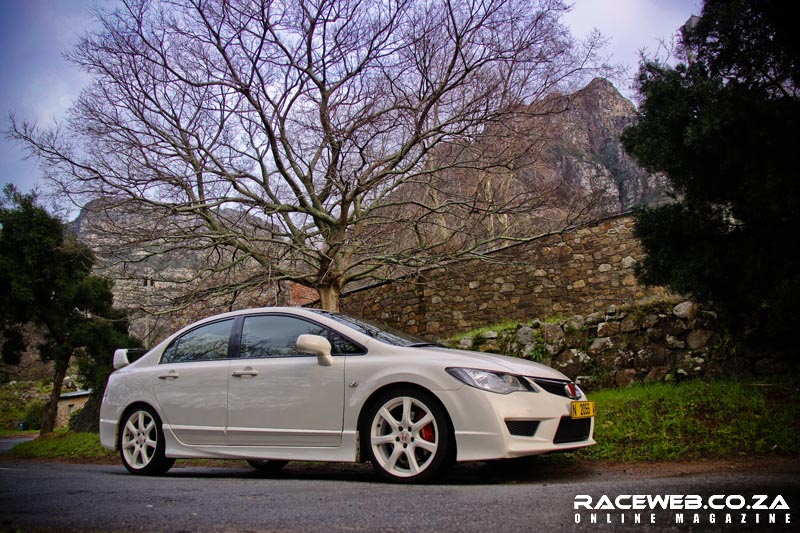 Leaving the house at the crack of dawn is not an easy task, expecially in this weather..So the reason for this little excursion must have been pretty darn good. Thankfully, checking out the only Civic Type R sedan in South Africa was reason enough to get any petrolhead, especially those in Cape Town, out of bed at any hour. A legendary brand, a cult of loyal followers - mention the Type R to any man on the street who knows about cars, and you'll earn his respect.

We eventually rendezvoused with the owner and had a chance to feast our eyes on it. First impressions were that it has a very purposeful design with smooth lines. From the low profile 18" wheels, massive brembo brakes, large exhaust tailpipe - you just know that this car was meant to get you (and your family of 4) places...quickly. It still maintains the space and practicality of the regular civic sedan model though.

As standard the FD2 Type R has 165kw, and 215Nm of torque. While it has a normal Mcpherson strut suspension in the front, a double wishbone suspension system is fitted to the rear for improved handling in racing conditions.

The interior is a bit more "Type R", with a sporty gearknob and dash, and red materials all over.

This import even came with a japanese sat nav and entertainment unit still stuck in Osaka Harbour somewhere!

After spending some time taking photos, we got the chance to drive it as well. Here are our impressions:



- Style and Practicality (5/5): Because the standard civic layout and design is maintained, it's got a large boot, space for 3 people in the back and a full house of interior features. It also looks the part, with a nice boot spoiler and body kit, white 18" wheels and red Brembo brake calipers - Instantly recognisable from anything else on the road. We like.



- Performance (4/5): It has one of the most glorious sounds ever when being driven hard, and the throttle response is really good. Gear changes are slick and it feels like you are driving a car with a race setup engine. It just screams for more! There is however a lack of out and out grunt - major hot hatches would probably trump this car in straight line performance.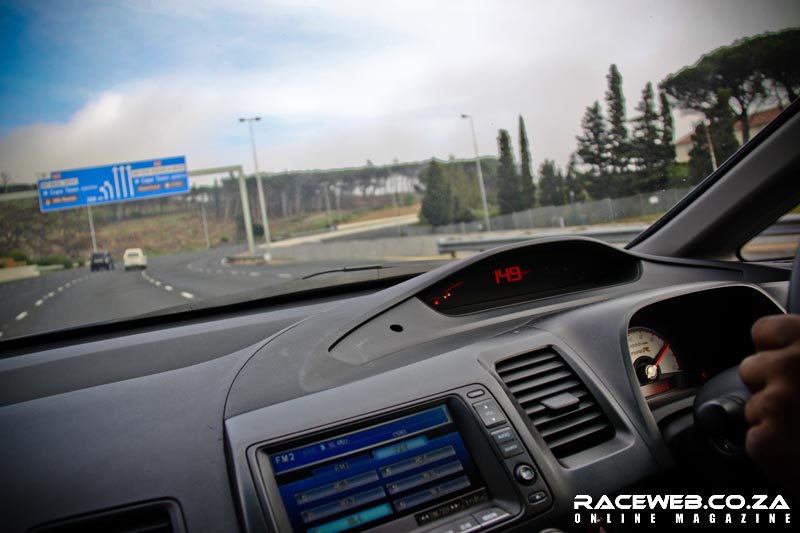 - Handling (5/5): This is where the Type R punches way above it's class. From the tight steering wheel motion, to the rear wishbone suspension, it inspires cornering at high speeds. It's lap times at the Killarney circuit match those of class A GTi Challenge race cars.



- Comfort (2/5): That double wishbone suspension is a double edged sword - while on the one hand you get awesome handling, it will also result in frequent passengers having back problems...you feel every bump, stone and hole in the road. While the driver will always have a grin on his/her face, the passengers will be a little more concerned about their chiropractic health after a few journeys.

In conclusion then. A 4 door performance sedan with tear jerking performance, but a suspension that is just a bit too hard for our Cape Town roads. One of those scenarios where your heart says yes...but your head says no. But make no mistake - if these models ever come to South Africa, there will be more than enough buyers with happy hearts.
- Ashraf Parker