INTERNATIONAL STAR SAM DEJONGHE AT KILLARNEY ON SATURDAY
Posted: 03 September 2014 | Press release



< back



With top former European F3 driver Sam Dejonghe on a fleeting visit to the Cape for just one race meeting, Saturday's Mutlu Batteries Classic Car events at Killarney could be one of the highlights of the Power Series sponsored by Wingfield Motors.

The young Belgium driver already had one F3 championship victory to his name in the current season, when he decided on a switch to sports car racing. He will be at the wheel of Jan-Willem de la Porte's specially prepared, powerful Chev CanAm V8 this weekend and it is going to be interesting to see how he performs against the likes of the superquick Chris Carolin in his Mazda Capella rotary, as well as Trevor Momberg's Ford Capri and the Datsuns of Martin Richards (140Z) and Richard Quixley (240Z).



And with a selected number of Fine Cars also included in the large field, traffic congestion could present the front runners with an additional problem.



The Germanic dominance of the Midas Clubman category sees a trio of Beemers in the hands of the spectacular Danie van Niekerk, Ebrahim Levy and Truspe Schoeman up against reigning champion Andre Johnson (Audi A4). However the surprises in these events could be supplied by Golfer, Clint Rennard who is currently hot property, or possibly Brennan Green in a class X Audi A4.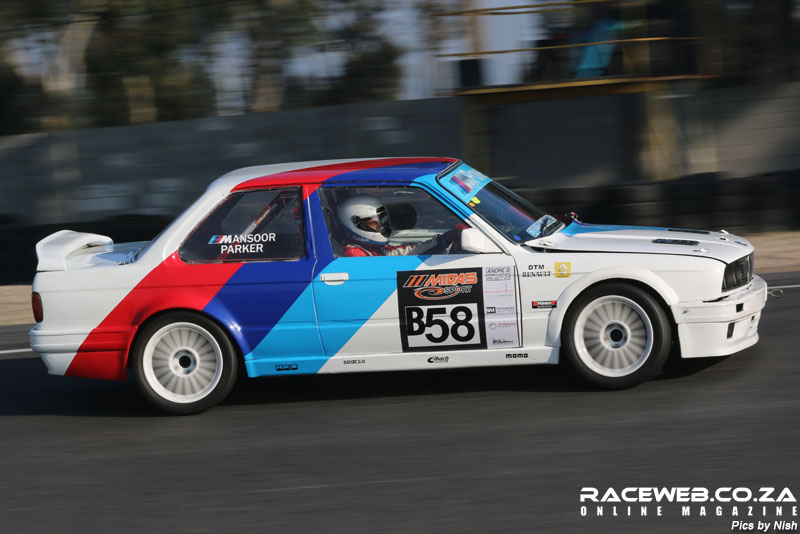 Behind them, the class B, BMW's of Gary Mainwaring and Mansoor Parker will be doing well if they can stay ahead of Gavin Cerff's flying Golfburger.



Then anyone looking for something spectacular will be well advised to keep an eye on Brett Roach in the Jive GTi Challenge events. Because while he has always been quick, this firebrand also acquired a "human wrecking ball" image early in his career. However that seems to have been shelved of late and his battle with Andrew Goslett and Bessie Bester, as well as Nian du Toit, who starts as the overall favourite, could be a close one.



The V8 Masters and the Makita Supercars are going to be back in action after their Namibian desert adventure last month. The head of the Supercar field is likely to be disputed between golden boys Nick Adcock and Brad Wadeley, while Gareth Easom and Stuart Spooner are going to be the drivers to catch in the silver and bronze classes.



An excellent performance by veteran Paolo Cavalieri in Windhoek, where he finished second to Marcel Angel, has seen him emerge as the dark horse in the Masters category. It is now going to be interesting to see whether he can match up to guys like Craig Jarvis and Charles Arton on their home circuit.



Juno kingpin Francis Carruthers' opposition in the Bigfoot Express Sports and GT category is likely to come from Dawie Joubert in a Lotus Exige Honda and Steve Humble (Mazda MX 5T). Which means it is going to be left to Keith Fourie and Matt Kreeve to keep Mike Verrier's Nardini behind them in class B, in order to salvage something for the Porsche force.

Gates open at 07.00. The first of the 16 events is then due off at 10.00, with a motorcycle Fan Walk at 14.00. Admission is R60 for adults and R20 for scholars under 12. There is no charge for kiddies under 12.