THE PIONEERS OF SLIDE AND A TRIP DOWN MEMORY LANE
Posted: 21 May 2013 by RaceMasteR J



< back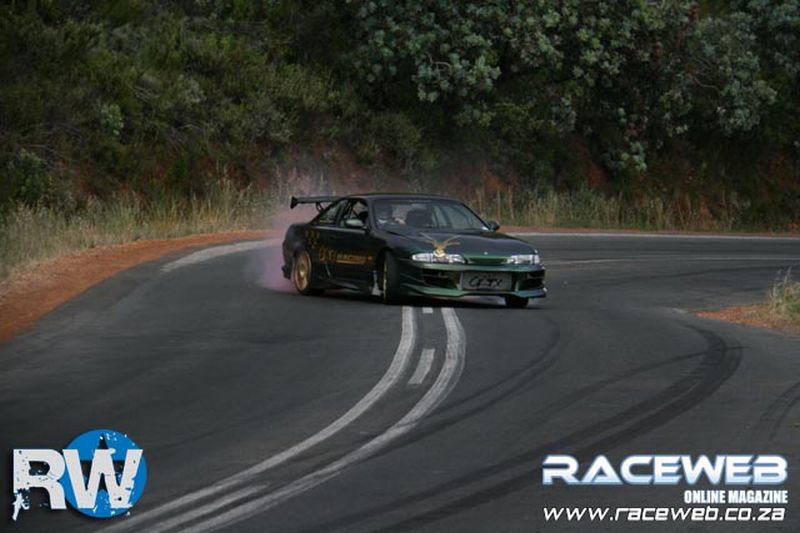 First off, this is by no means a 'Top 10', but rather a personal recall of the emerging drift scene in the Cape some ten, maybe more, years ago. Ok, with the disclaimer stuff out the way…let's move on! The topic actually came about after having a chat with my buddy Nabeel who mentioned that Herman Mahnke, as far as he could recall, was the pioneer of drifting in Cape Town. To some degree, that may be true, but I beg to differ based on my personal experience at Killarney raceway from the multitude of events I have covered there over the years. This got me thinking of a few other names from the past, which immediately got me digging through the Raceweb archives from days gone by. This brought a flood of memories streaming back and based on that, join me on this trip down memory racing lane as we visit the tyre shredding days of yesteryear.



Here are some of the guys and their cars from way back then who in my opinion were the pioneers of slide, I say slide, because it wasn't actually drifting, even though everyone called it that. This was a time before drifting actually blew up into the monster of a sport that it is today. Some are still around, some are not, others have changed their priorities and some have just disappeared. None the less this is my little thank you tribute to all of them. Oh and there's a few funny ones too…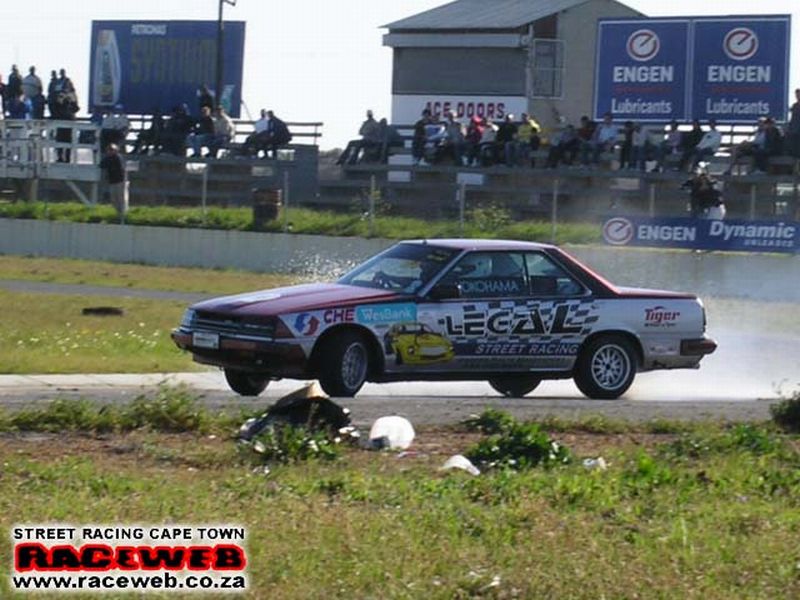 Mynhardt De Jongh from Knysna was a regular at Killarney events and was well known for his awesome sliding skills. He first appeared on the scene in his brown Garden Route Racing Nissan Skyline. He later progressed to the red E36 M3 and then the last I saw he had a red Chevy Lumina. Always a pleasure to watch and a crowd favourite by far! It was from him that I learnt the phrase, "Smoke tyres not drugs".



Anton Slabbert will always be one of my heroes. It was with him in the then known HKS Silvia (now Ready D's) that I sat shotgun and went drifting around Killarney's oval. I'll say drifting because it was proper drifting. Anton was not just power sliding, but actually flicking and switching directions too. This man had crazy car control skills and was absolutely fearless. He piloted that very same Silvia, albeit with a complete makeover, sideways up Gydo pass at the King of the Mountain Ceres hill climb event.



Herman Mahnke and Ken Addison were one of the first guys to take it sideways. Most notably in this yellow E36 M3. This was at a time when Killarney used to have drag racing on the strip, gymkhana's on the oval and then end the day off with spinning and drifting. It's what everyone used to wait for. The oval used to be so packed with everyone waiting to see this yellow M3 being pushed to its limits and beyond. Those were the glory days!



Allen Irwen also used to pilot a Dakar yellow M3 at times, but was most popular for driving the living daylights out of his white Hi-Q wide body 325is. Also from a similar time period that Herman used to perform. I recently saw Allen and his BMW at a regional race meeting taking part in the Clubmans race. It was good to see a legend again, even if it wasn't going sideways.



Steve Wyndham and his big V8 Ford Falcon. Aaah… good times! Even though I don't consider it proper drifting, Steve used to take part in the duel gymkhanas at the oval and the car was almost permanently sideways. Couple that sight to the glorious V8 soundtrack made for unforgettable viewing.



Dave Kopke was the David in the "Steve Wyndham Goliath" story. As mentioned earlier, Steve was famous for the duel gymkhana's, and it was Dave Kopke who was his nemesis in his little Mazda R100. Dave was also almost permanently sideways for most of the time and it was extremely difficult to decide who to watch when Dave and Steve were up against each other. I'll never forget that gymkhana, Dave Kopke always used to just nip Steve at the end. Fun times.



Brian Canterbury is still around. Hell you can see and hear him coming from a mile away with his bright orange Ford Capri. I'd say Brian was one of the first guys to go sideways with crazy angle and hold the slide. And with more track time and experience Brian managed to master the art of drifting too. Hats off to him because in my head, a Ford Capri is not the ideal drift machine.



Faheem Salie is an old dog who keeps on learning new tricks. I first met him when his S13 200SX was fairly stock looking and still white! Since then it's had quite a few colour changes and eventually Faheem decided to retire it. Good news is that he has come out of retirement with an all new crazy powerful E36 BMW. If you follow the drift scene now, you should see Mr Salie in his Mike's Place Beemer.



Ernest Page was a natural from the beginning. Ernest is a guy that went from amateur gamer to pro drifter in a matter of a few years. Starting off by winning the WPMC Driver Development program, he went on to racing GTi Challenge and single seaters. But drifting was always number one to Ernest. Prior to racing regionally he won what I think was Cape Town's first ever formal drift competition, the Urban RacR Drift Off. He also went on to becoming a sponsored driver for Monster Mob and participated in national drifting events. Ernest is currently a judge for the popular SupaDrift Series.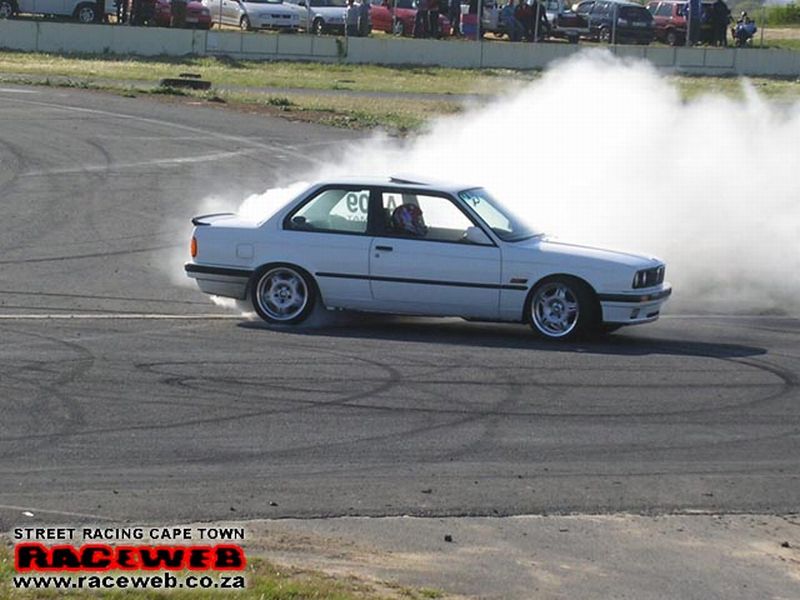 Achmat Achmat or Mr. A as I call him never actually got the whole drift thing 100% right. But I put his name here because he gave young petrol heads like myself at the time the chance to see turbo charged BMW's shred their rubber like there was no tomorrow. The sound of the turbo spooling up in a time when turbo's were still very rare was heaven. Knowing that there was a turbo charged M3 motor sitting in an E30 chassis and seeing it go sideways smoking its rears is yet another image I will never forget. Mr. A has since moved on to becoming the regional clubmans champion and a legendary driver of note!



So those are some names that came to mind when thinking about this topic, I might have missed a few (Koosie Swanepoel, Werner Koekemoer...) and I do apologise for that. Remember these are all from my personal experience. But while I was thinking of those guys there were a few other names that came to mind and that are worth a mention, even though they were not drifters.



Ghatiem Abrahams, Ebraheem de Long and Ashraf Allie aka Patches. These are the guys who used to be the other highlights at the shows. Sort of like the opening acts at a huge concert when drifting was the main show. They would put on epic performances by spinning the crap out of their cars till the tyres popped! BOOM! And the crowd goes WILD!!!!



Mike Nathan, I just had to give him a mention here. Who remembers him sliding his front wheel drive Bantam bakkie???? Mike has moved on to become a rally god in his evil Mitsubishi Evo.



An M5 going sideways… ok, what's so special about that? Look closer and you will see it's in fact Kosie Wyers… when he was about 16! The boy had talent back then, and it hasn't run out. Kosie still drifts occasionally but is better known for being an Engen Polo cup star and a menace at stock car racing events.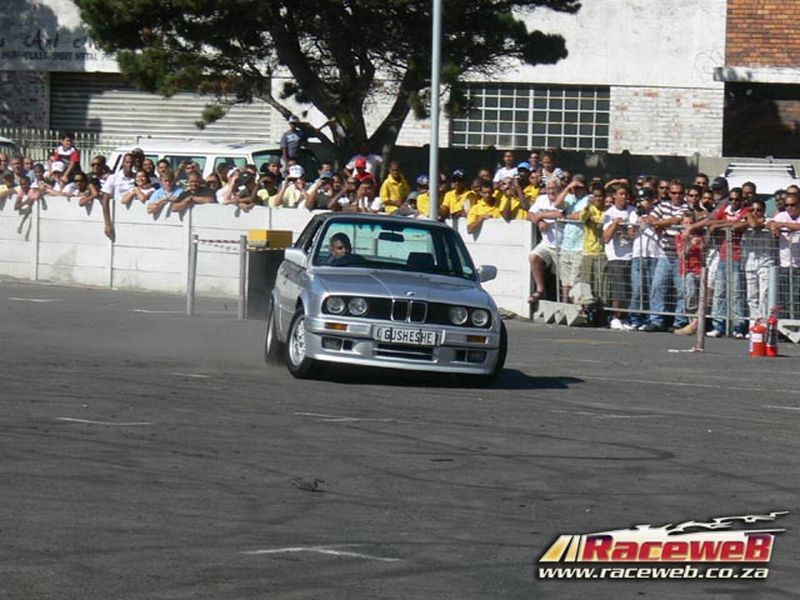 Who's that in the Beemer?



Nope, not Ready D, it's Sean February! Also when he was about 16 years old or there about. What a drift god he has gone onto become now! Well done son!



I hope this article has taken you on the same trip down memory lane it took me… Even though it's sad to see some of the guys off the scene, but like in Sean and Kosie's case, great to see where they've gone. I'm always on the lookout to try and spot new and upcoming talent, so we'll just have to wait and see who's going to be the next superstars of tomorrow. Until then… Peace out!

RaceMasteR J