NISH'S MODEL CAR COLLECTION
Posted: 21 August 2013 by RaceMasteR J



< back



Nishaam Ebrahim aka Nish is a fellow photographer and writer here at Raceweb and I've known him for years. Whenever I go to his place I'm always in awe of one thing, his model collection. My wife calls it toys, but I beg to differ. His collection ranges from Japanese anime figurines to Star Wars and even Lord of the Rings, but it's the car collection that always grabs my attention every time.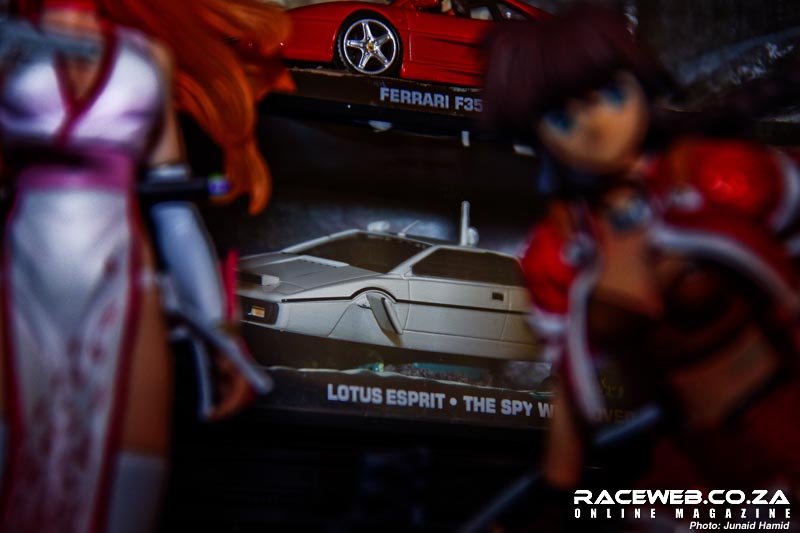 Whenever I'm there I can't help but stare for "days" into his cabinets finding new things I haven't noticed before, like this Lotus Esprit from the James Bond movie, The Spy Who Loved Me. It's part of his James Bond car collection.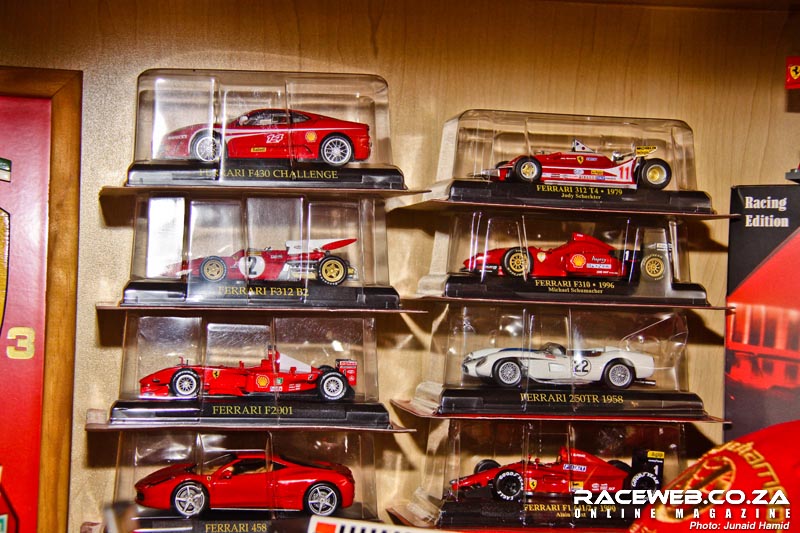 I know some purists might frown upon this story as it's a more "off the shelf" type of collection. But to me it's still worth a mention! So with saying that I thought it's time to highlight this crazy boy's collection which he started almost 20 years ago!



One of the first pieces was a cheap and ugly E36 BMW M3, which he sprayed himself and admits it looks like a dog's breakfast. Suppose it all has to start somewhere I guess. But his current oldest piece is a Star Wars X-Wing which he got when he was 19 years old.



There are roughly about 260 models and you can't help but wonder how much it's all worth? The image above is just one of the cabinets. It's crazy when you add it all up, but keep in mind he started when he was just 16.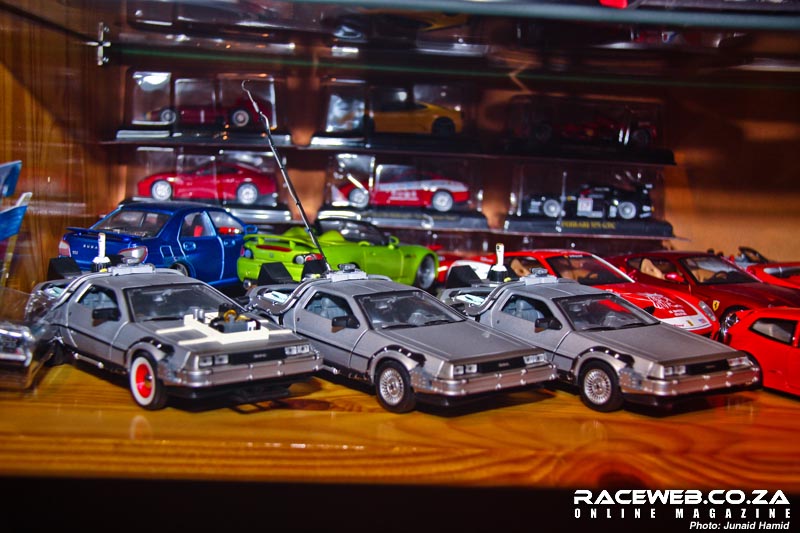 He reckons its about a car's worth of money, which car specifically I'm not sure, but a "guestimate" figure would be around the R50 000 mark.



Nish is adamant that he is only mildly insane compared to some of our other friends who have personal collections to the value of houses! Yes, houses! But we'll save that one for another article.



I'm a huge LOST fan myself so I just had to take a snap of this. For those who don't remember, its the scene where they finally get to open the hatch! EPIC!!!



The cheaper ones are the Hot Wheels collection which cost about R20 each at the time, probably worth double that now while one of the most expensive ones is the 1/12 die cast Ferrari F1 car which was given to him by a friend. That one alone is about R3000.



One of Nish's most prizes possessions! He got this Star Wars Millenium Falcon as a 21'st birthday gift. Just look at the detail!



As you may tell he is a huge comic book fan and even after 260 models later Nish still isn't done. He wants more Batman and Star Wars goodies! But to even be able to unpack what's in his draws, a cabinet extension is required first.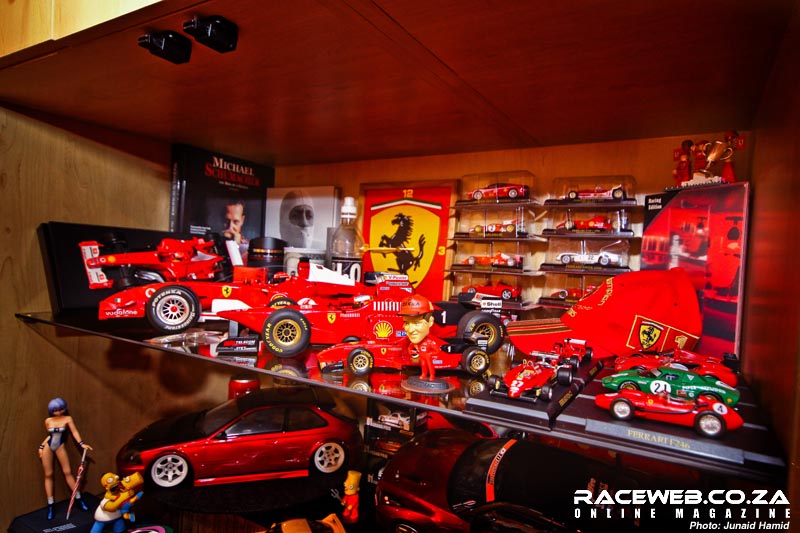 A Ferrari F1 fan of note!



Even Lego Ferrari bits.



As for having a favourite, it's not that difficult for Nish. He says some guys dream about Ferrari's but he dreams about a Panda F20 Powered Toyota AE86. Yep, his favourite is the Initial D die cast AE86!



I asked Nish if it will it ever end? "This is a good question, I hope not. My daughter will inherit my Anime babes soon though. She's 5 now and understands that's its toy's you look at and not play with. The collection may become more focused, but I don't think it will ever end!"



Ueo's Toyota AE86 drift car from the D1 GP collection.



His wife clearly thinks he is mad. Yet Nish claims she fueled the collection. She started the Lord of the Rings collection and added to the Batman entourage. " She secretly likes it I think. Except for the "kaal gat meisies."



The above Honda CRX is a replica of his own (ex)car, which he built himself. But being the day dreamer that I am, I asked him if there's anyone of these model cars that he would want parked in his driveway in 1/1 scale now? The answer was a straight up "Initial D AE86 or the Nismo R34 Skyline." And we all call Nish a Honda Boy???



A Honda Type R engine with throttles. Theres just way too many small things in these cabinets!



Unfortunately there's just way too many tiny models in this collection for me to photograph. I haven't even scratched the surface with these few pics. Most of the models were purchased from various hobby shops, EBay, comic shops and trade fairs while others were gifts.



I plan on doing a few more features like this from some of the other guys that I know, but if you feel you have a collection that's worth a mention, feel free to drop me an email here.

RaceMasteR J