DRIVEN: M44 E30 RALLY BMW + VIDEO
Posted: 28 January 2015 | Story & photos: RaceMasteR J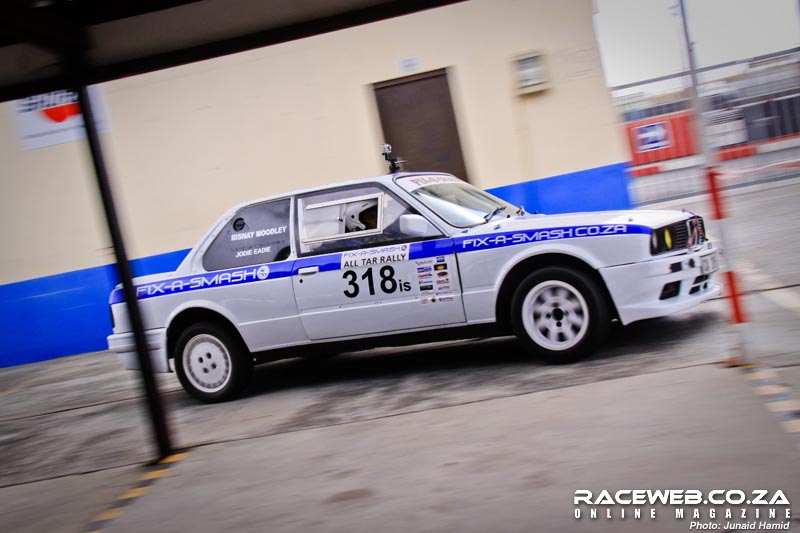 If you're into local rallying at all, you would have certainly heard of the annual Fix-A-Smash All Tar Rally held at Killarney Raceway. It's one of the most exciting events to watch, and even better to participate in. Even though I haven't raced in it yet, I've heard from multiple people who have, and the unanimous conclusion is that it's heaps of fun… and a car breaker of note!



Like the name says, All Tar, it's not on gravel and its basically held not only on certain sections of the track, but on many side and service roads, pit lanes and basically where ever you can find a piece of tar, that's where they'll be racing! It's a specific type of driving style which is not always suited to everyone. It requires a lot of precision, finesse and skill. Weight transfer is everything. You fly through high speed chicanes with poles, buildings and barriers all around you all the time. It's one massive super special rally stage. What's not to love about that?!



If you've ever been to the event you would of definitely seen the title sponsors (Fix-A-Smash) own car, a little E30 BMW 3 series piloted by Rishay Moodley. I was very much impressed with the car/driver's performance at the 2014 event. It's not a highly powerful car only running with a 318is motor. Specifically the M44 E36 shape 318is, which is actually a 1.9 liter.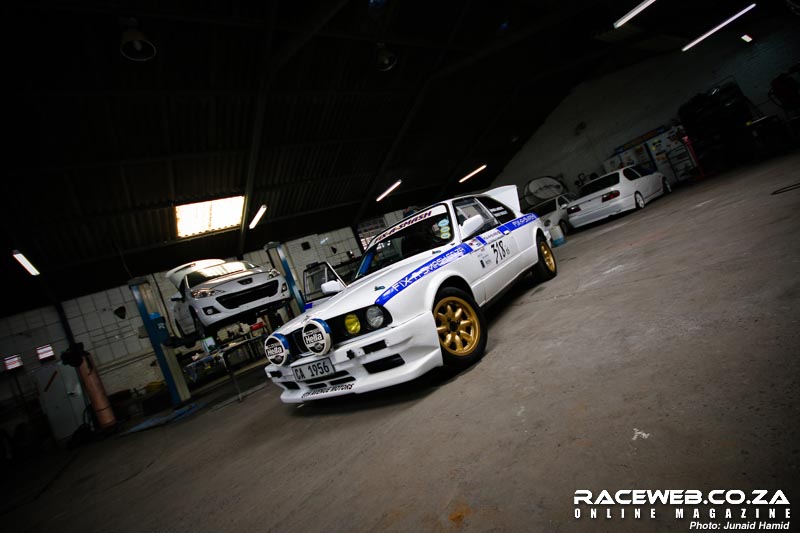 It competes with the very best of the best and that got me thinking that I should investigate further, hence the reason for this article. Chatting with Rishay, he gave us the history of the car. It was originally built back in 1991 as a full spec rally car. Wow! That's like taking a brand new F30 model 3 series and turning it into a rally car. So this car was something very special back in the day. It was built by local legendary car builder, the late Owen Ashley and rallied by local rally outfit Murway Motors.



A few years later the car was sold to Rishay's dad, who was also a passionate rally driver at the time and rallied the car for a few years until a mechanical failure set in which eventually saw the car retire to the back of the Fix-A-Smash workshop for about 10 years.



When Rishay became of legal age to drive, he took a keen interest in the dusty E30 which lay in his dad's workshop. And with Mr. Moodley senior wanting to get involved with more events like the All Tar Rally, it was high time to make a plan to get the little E30 to its former glory once more.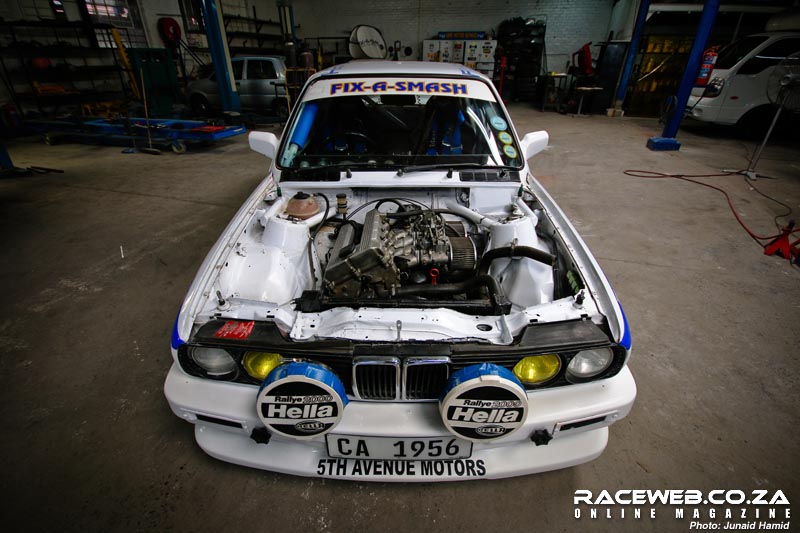 Research was done on what motor to fit into it and they even considered installing a V8 from the 540i. But common sense kicked in and wanting to participate in rally events rather than drift ones, the M44 motor from a 318is E36 was chosen and installed.

A few tweaks were made here and there like a performance cam and old school Webber 45 side draughts. Interesting combination, but one that works!



Besides a full rally spec roll cage, the car is stripped out to the max making it much lighter than standard. A custom E30 M3 style wide body kit was installed giving the car a much meaner stance. Normal steel rear quarter panels combined with fiberglass front fenders and bumpers make this car even lighter.

Rishay recently fitted a new spring setup to the Bilstein shocks and 5 link rear suspension which is coupled to racing semi slick tyres, a 6 speed E36 M3 gearbox and a Toyota LSD differential.



So far the recipe seems to work. Not a lot of power in a very light and agile chassis. It does pretty well at the All Tar event but what's it like to drive? Well today I was fortunate enough to drive this machine and I have to say I'm impressed!



On first impression it is what it is, a race car. So comfort is not to be expected. It's bare and stripped out. It doesn't even have a dash, just the essential dials and switches that are needed.

Sitting in the driver's seat I was greeted by an old school 4 spoke BMW steering wheel. It reminded me how old this car actually is. Personally I would prefer a 3 spoke deep dish Sabelt wheel or something, but that's just me.



On the left we have the 6 speed M3 gearbox gear lever followed very closely by what I like to call a disco stick - the hydraulic hand brake, because when you pull it, the party starts! After strapping myself into the bucket seat with the 1st Race harness, it was time to "push the (start) button".



I press the clutch to make sure the car is in neutral, push the start button and the M44 fires into life. The first thing I notice is the accelerator is very stiff. I squeeze the pedal and the car revs with ease. It's loud! There's no sound deadening at all and it's all very rough. I feel all sorts of vibrations going up my back through the seat. It's a race car and it's not shy to let you know it.



I engage first gear and start to make my way down the road. The second thing I notice is the clutch, the button clutch. It's either on, or off. Nothing in between. A bit of a jerk and off we go. I cruise at first, obviously, just to get a feel for the car, how it reacts, what the brakes feel like, steering sensitivity, engine under load etc.



I come to the end of the dead end and make a u-turn. Rishay tells me to go for it and I happily obliged. Floor it! First gear is very short, the revs hit close to cut out before I know it. Second gear is a little longer and I now start to feel the car's M44 engine and 45 Webber sides roaaarrrr like Katy Perry! This is getting exciting! Its loud, it's rough and bumpy, but its fast and I love it! I don't show it, but inside I'm smiling from ear to ear. At the back of my mind I'm thinking don't overdo it, it's not your car, concentrate! I try, but it's happening all so fast. 5th Gear… wait, what? Yes, I went from 2nd into 5th. The gearbox is very close, and I found out the hard way.



Find 3rd gear and off we go again. The car continues to rev and scream in delight and I can't get enough of it. 4th gear, I'm starting to pick up decent speed now, 5th gear, I continue to be brave and keep my foot stuck down into the floor. And then I have to slow down. We reach the end of the road once again, u-turn and off I go again and again. But alas I cannot do this all day long in someone else's car. I have to give the keys back now.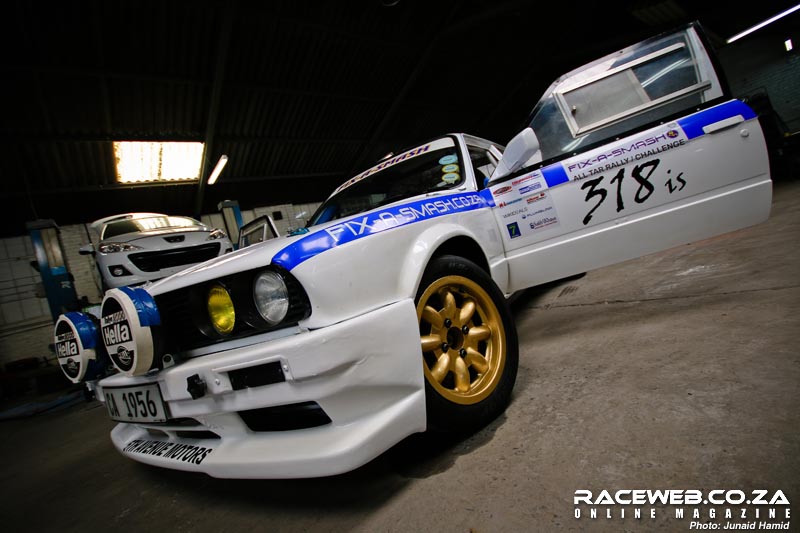 Even though I never took the car anywhere near its limit, my limited time behind the steering wheel gave me a good taste of what this car must be like to race around at the All Tar Rally! It's perfectly set up for it. It reminds me of a Toyota 86 in a way. Not the most powerful car, but so much fun to drive!

Check out the video above and the full gallery below.
RaceMasteR J