PRESS RELEASE: DRIFT CITY 10 APRIL 2016
Posted: 04 April 2016 | Press release by: Drift City
< back



Tyre smoke. The sweet smell of racing fuel. High powered lumps of metal and carbon fiber. That alone is usually enough to ignite the spark in the heartsof most hardened petrolheads. So now that I have your attention allow me to explain just how incredible DRIFTCity will be, and just how it is unique when you compare it to any local motorsport event you may have attended. DRIFTCity essentially takes two of motorsports most exciting and visually appealing genres, namely drifting and gymkhana and merges them to bring you an overwhelming spectacle of high powered, sideways sliding smoke machines.



These weapons of tyre destruction will be piloted by some of Cape Towns most talented drivers who will go head to head on a mirrored course. Each driver will compete on a level playing field having to negotiate their way around obstacles, through high speed clipping zones and finally ending up in the finishing box. The drivers will be judged on the time they took to finish the course. Any infringements they may have incurred will be added on to their time as a penalty. Here is the twist. drivers are encourage to "drift" the course with a balance of speed and flare. Any driver purposefully "straight lining the course" will incur a heavy time penalty. So while it may befaster for drivers to just mundanely drive around everything it will not be to their advantage.

Let's talk about some of the amazing drivers who will be shredding rubber at Drift City. A large contingent of Cape Town's best drifters have already signed up to take part in the smoke fest to find out just who has the skill to take home the inaugural Drift City crown. One of the locals who will be taking part is Daniel Blazer who happens to be the 2015 Regional
Supadrift Champion. It will be interesting to see just how he holds his own against the National Supadrift Champion Jason Webb. Webb is currently at the tail end of a knee injury which caused him to miss the final round of Supadrift 2015. Doctors have said that he will be good to go for the competition.

The cars that will be sliding at Drift City are a balanced mix of drift and gymkhana weapons. We will have cars ranging from slightly modified Nissan 200sx S13's running ca18 motors right up to 2jz powered Toyota Supras. We are really looking forward to seeing Noer Asmodien's Nascar powered Nissan Silvia S15 tear around the course. If you find yourself wanting a
"suicide" ride in one of these mental machines then Cape Town's Drift Suad will be at Drift City in their very own little arena offering rides to all of you crazy petrolheads.

We are also really honored have international drift sensation and European Drift Champion Steve "Baggsy" Biagioni joining us at Drift City and a guest judge and commentator. Baggsy will be keeping the crowd properly informed with his wealth of knowledge and experience in both drifting and gymkhana.

Don't be fooled into thinking this is all though. DRIFT City will have plenty of entertainment to ensure that the entire family is entertained.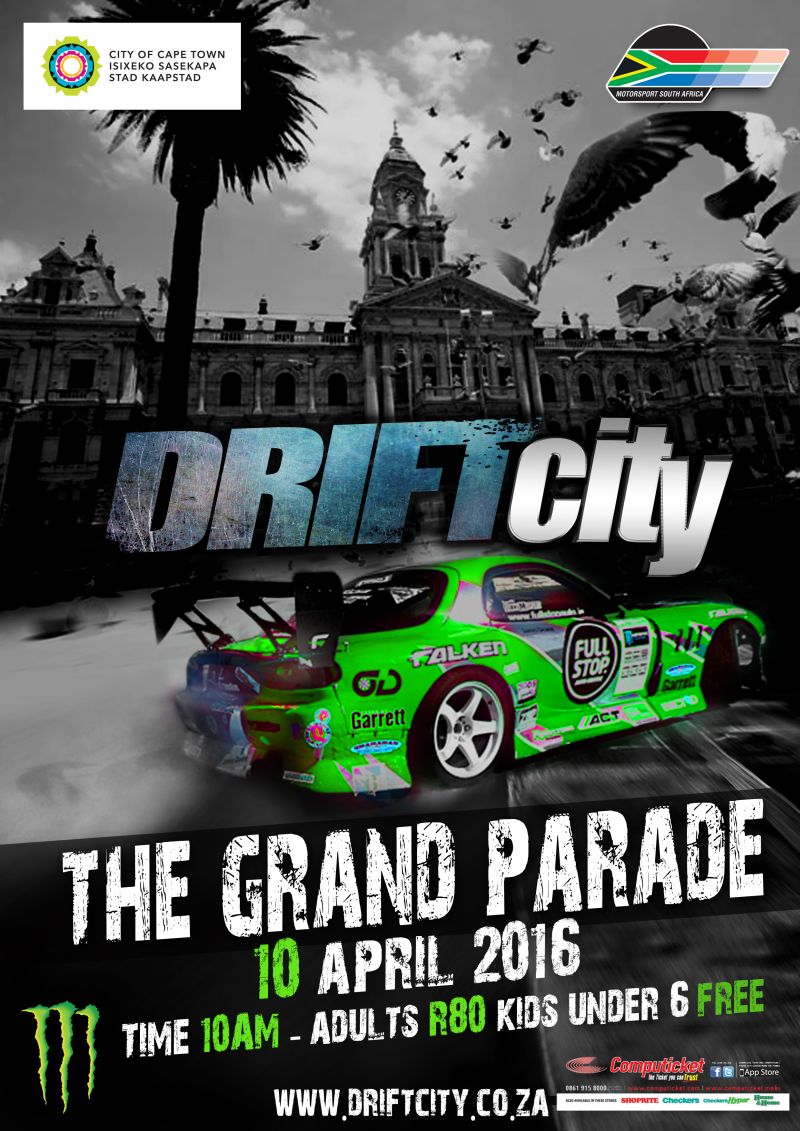 See you all on the 10th of April 2016. Gates open at 10am. Tickets available at Computicket.
For more info visit www.driftcity.co.za
Facebook : www.facebook.com/dr1ftcity
Instagram: @driftcitycpt
Twitter :@driftcitycpt