DREAM DRIVE: MERCEDES-BENZ A45 AMG
Posted: 07 January 2014 | Story and photos: RaceMasteR J



< back



When the name Mercedes Benz comes to my mind I naturally think of terms like status, luxury, refinement and German engineering, or even ones like uptight, snoot and old fart. And generally they are associated with the older folk from doctors and lawyers to rich business men. Sportiness was never really a word linked with the brand. But how things have changed over the last few years.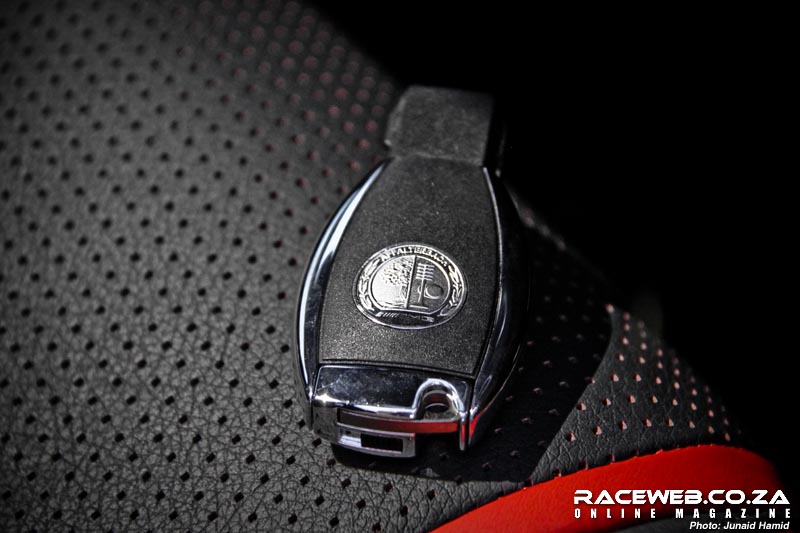 Mercedes Benz have managed to rebrand themselves in the sports car market making some mental machines like the C63 AMG all the up to the SLS Black series. But even with all that there was a market they never really tapped into, the hot hatch market, until now.



This is Mercs first attempt at a proper hot hatch and my word have they nailed it from the get go. My good friend David recently acquired his very own dream car and as soon as the 1500km run in mileage was done I was knocking on his front door.



A nice decent drive was in order and we decided to head out to the picturesque town of Franschhoek, specifically, the pass. After a quick fuel top up at the Engen 1 Stop we made our way to the quaint little town.



The closer we got into the town the more I realized how lucky we are to be staying in Cape Town. This place is absolutely beautiful and it's only a few km's out of Town. I really felt like I was in another part of the world.



David was one of the first people to actually order one, so early in fact that when he called Mercedes up they themselves didn't even know what car he was talking about. Weeks and weeks of pestering later they eventually received all the relevant info on the car and David's deposit was down.



When David finally received the phone call to say his car had arrived, he immediately rushed through to Mercedes-Benz, and like a kid on Christmas morning he couldn't wait to see what Santa had brought him. Not knowing what exactly he had gotten due to him insisting on getting the first available one, when the salesman eventually showed David this particular car, David's reaction was "Shut up and take my money!"



Not being the original white that David imagined, this mountain grey version eventually grew on him and he is glad he made the choice. The spec list on this car makes up for everything. Direct from the "I'm too lazy to do anything myself" option list we have things like reverse camera, lane assist pack – that's when it notifies you if you veer off your lane, blind spot assist – when you're too lazy to turn your head it will tell you if it's safe or not to change lanes, active park assist – it parallel parks for you, and it even tells you when you're driving too close to the car in front of you and it will brake for you if need be.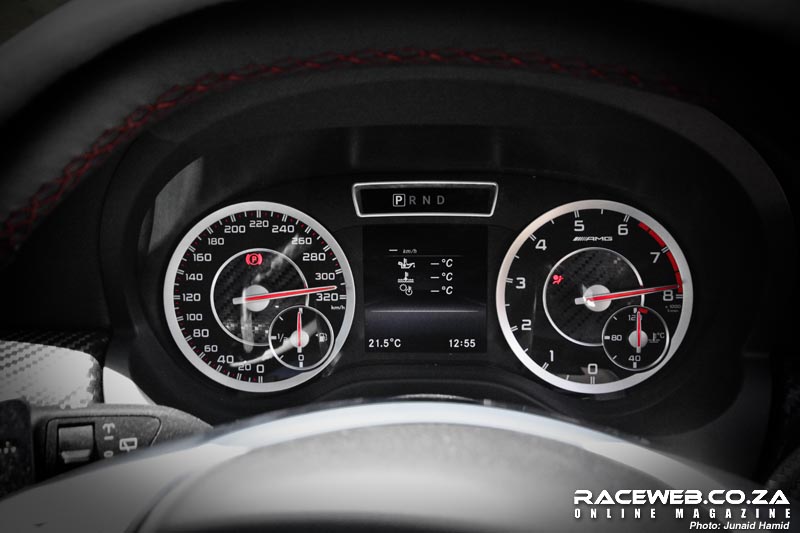 Those are just SOME of the options which this car has. It's amazing to think technology like that has been crammed into a hatch back. Its stuff you would usually find only on the bigger super saloons like the S Class range.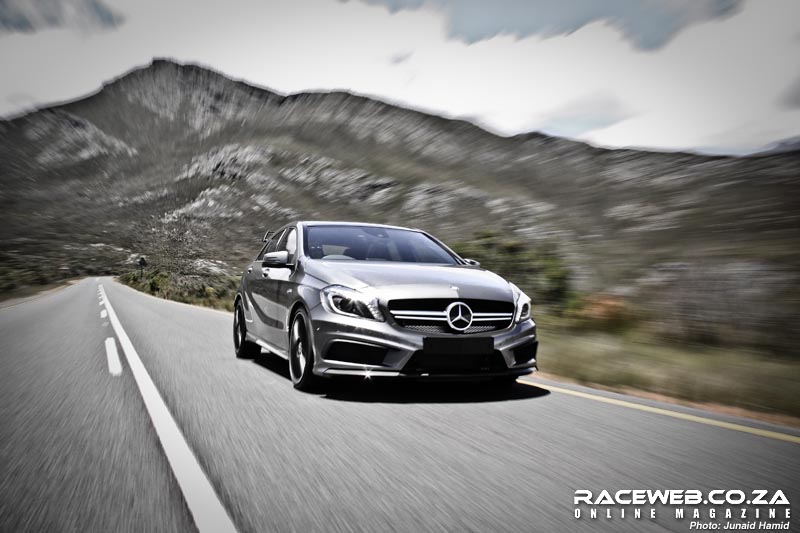 So… this article seems to be pretty boring thus far. It's so… Mercedes Benz, right?! Well yes, but let's get to the fun part, where we get to drive it. Driving this car is far from boring! It's a little pocket rocket! All you have to do is point with the steering wheel and shoot with the accelerator pedal and bam you're there! It's a 4 wheeled drive teleportation device! (Thanks Jason) I can kind of describe it also as a UFC fighter with a suit. All smart and sophisticated on the outside but if the need arises it can be a bar brawler of note.



With 1.8bar of boost, 265kW's and 450Nm's are figures unheard of from a stock standard hatch back. What's more amazing is that it all comes from a 2.0L 16V 4 cylinder engine! Just how Merc got that right I'm not sure but kudos to them! With so much boost you'd naturally expect a decent amount of lag, maybe that's me just being old school, but this little monster firmly pushes you back into your seat without much hesitation after squeezing the throttle. It's also surprisingly rev happy. You put your foot down and you immediately realize how quick this thing actually is.



And with AWD traction it's always reassuring and safe. Even though it's in front wheel drive most of the time, until traction is about to be broken then the rear wheels kick in. However it works I don't care it's just so bloody brilliant! Personally I would prefer a RWD car, but for David, this car is perfect, he is going to have as much fun in this as he could ever possibly have.



But even when I was driving it, it gives you so much confidence it just makes you want to do naughty things all day! It didn't help that David was still waiting for his registration plates and the trade plate page "fell off" the back window. Being electronically limited to 250km/h is the norm now days but top speed was of no interest to me. It's how it gets there. With a claimed 0-100 time of 4.6 seconds I got to feel every bit of that via its launch control system. A bit tricky to get used to at first but once you master the systematic procedure to engage it, its pocket rocket time baby!



The only downside for me about the way it drives is that these new cars are so well built they sometimes give you a false sense of speed. You know you're going fast, but don't realize how quickly the speedo is actually climbing. Even though you feel the boost, I think it's due to the lack of noise inside the cabin. Don't get me wrong, you do hear the car, but I think personally I would prefer it to be a little louder even though it has the AMG performance exhaust system on it. I think I'd want it to be more of a bare back horse ride of an event rather than the hand of God wafting you from point A to B.



Which brings me to today's version of the dump valve. It's no more the neck twisting "ttsshh" noise we're so used to hearing, now days it's the exhaust fart. But besides it being a little too soft on acceleration for my liking, I absolutely love the other noises it makes on the over run… this car snap crackle and pops all the time. It's such "un-Merc-ly" like behavior. Which also reminds me of the ride quality. This car has the AMG performance suspension as well and ride quality isn't S Class, neither is it race car, but personally I think it's just stiff enough to enjoy in all forms of driving.



As tested this model costs over R700 000. For a hatch back that's damn pricey. Lots of people would opt for something else instead, but if I could afford this then why the hell not. As soon as you jump into the driver's seat you instantly realize where that R700k went to. It's absolutely stunning inside. From the leather bucket seats with red stitching and piping, to the brushed aluminum and carbon fibre and sued leather on the steering wheel, it all shouts expensive! Money well spent I say. It's an awesome place to be, especially for David since this is his everyday car.



For what this car is, regardless of the price, I think it's a brilliant all rounder. Yes it's not a RWD but if this was my everyday car I would also prefer it being an AWD. It's something you can really enjoy on the roads and enjoy even more on the track throwing it around. Like I mentioned earlier, for David, this everyday dream car of his will give him as much fun as he could ever possibly have!

Watch the video below and enjoy how this pocket rocket gets off the line.



RaceMasteR J