WE GO TO THE BANGKOK AUTO SHOW
Words & photos: Nish
< back



When motor sport fans plan their holidays, true petrol heads will always check how they can maximise their vacation by adding as much "car" related events to attend. That's exactly what we did in this case. Thailand is a quick 2 hour flight from Malaysia and it hosts an international motor show every year in the week after the Malaysian Grand Prix, so it makes sense to do both events in one trip.



The Bangkok Motor Show offers a great mix of modified and new car displays by most manufacturers. You can tell by driving around in Malaysia and Bangkok that they definitely have a strong car culture. Mostly rooted in Honda's and Toyota's, with BMW's and Mercedes representing on the German front.



RICE may have come from America (I think), but it's alive and well in the East in Malaysia and Bangkok. Body kitted Honda Civic's claiming to be RR's and BMW E46 318's claiming to be M3's. And they're bloody good at it especially when they're just sat in a parking lot. They have the detail down to a "T", complete with authentic grilles and even M3 fenders.



This show is held over a staggering 7 days. It's not a massive show, but it's a decent show to attend. Each day major Thailand car clubs take turns to represent with a small parking lot display. On the day we attended the parking lot was well represented with modified Suzuki Swifts and Mitsubishi Lancers.



Major car manufacturers did their best to wow the crowds with hot show girls, unveilings and demonstrations. Why, oh Why Honda didn't have a new Type R on display is beyond me. I suppose for their environment and massive traffic issues, concentrating on good looking small to medium sedans and hatchbacks makes more sense. It also seems that Honda put alot of work into hybrid technology in affordable packages. As did BMW, well, probably less affordable in the BMW i8 and i3.



Most impressive were the Bike stands with latest models like the new Ninja and Hayabusa making even us 4 wheel fans drool.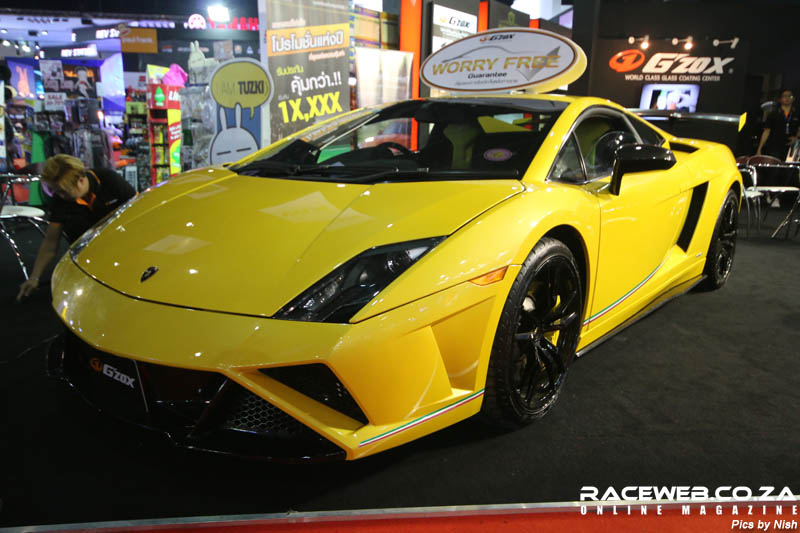 Apparently, the Motor show saw the unveiling of a New Ford Ranger, can't say we even noticed unfortunately.



What would a car show be without making new friends, and in our case we spent alot of time at the Mothers stand, where our new friend, Mr. Shouw got us sold on some old and new products ... at a discounted rate of course Bangkok style. Where once you're quoted a price you offer 50% of the value and work your way from there.



The only issue we had with the show is its new location. Previously it was held at the Bangkok international convention centre, the new location is further away from the city centre. It just made fighting with taxi drivers about the price of trips or getting them to use the damn meter more difficult.



Price you pay for being a "Farang" (Foreigner). Oh and did I mention the girls? No need to mention as a picture says a thousand words.



Be sure to check out the rest of the gallery below.

Nishaam