TOYOTA FEST 2014
Event date: 27 September 2014 | Words & photos: RaceMasteR J | Location: Serepta Sports Field, Kuilsriver, Cape Town.
< back



A few months back we were invited to attend the first ever Toyota Fest in Cape Town. Looking at the date however, it was going to take a bit of shuffling to be able to attend due to a few other big events happening on the same day. But being big Toyota fans ourselves, and owning our mascot, Polizia, which we've put into retirement, we decided to remove the covers, blow out all the dust from our Toy and attend what would potentially be a world record event.



Sources say the previous record for the most amount of Toyota's at a gathering was held in Denmark with a total of 426. According to the organizers the amount of clubs who confirmed their attendance would already surpass that number.



25 Different local clubs and more from all over the country were set to be there. It was shaping up to be history in the making.



Not only was this a world record being attempted but the event itself was actually in aid of charity for an animal shelter called Adopt-a-pet. A good course with good intentions and a few hundred cars with many more like minded people. What's not to like?!



The event was hosted at the Serepta Sports field in Kuilsriver. Personally I'm not a fan of car shows on fields. I just feel it's been done so many times before and prove to be boring after a while. But this was different.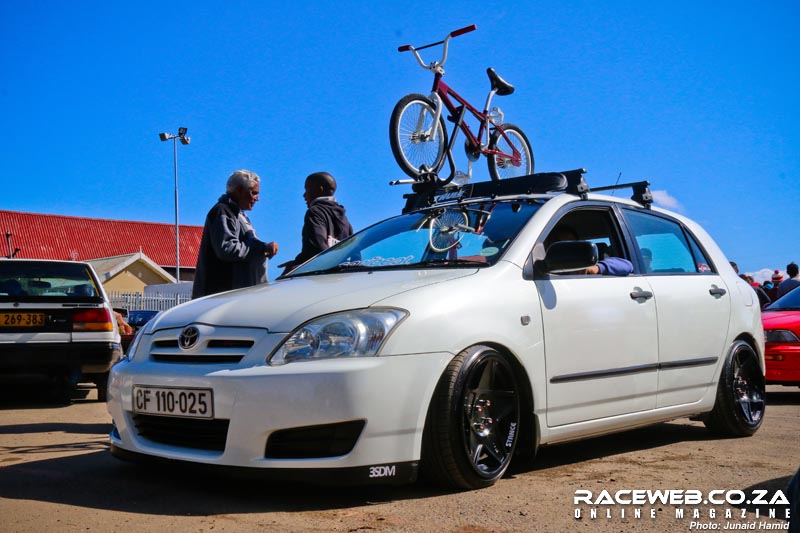 There was a variety of activities here. From food stalls, novelty stores, car parts and apparel, a sound off, show and shine and even something for the stance guys, the limbo.



There was even an eco car wash right in the middle of the field for guys who wanted to make sure their pride and joy was the cleanest of them all.



Last year the Honda clubs came together for their annual Hookup. The total number there was 408 Honda's. Not bad at all.



Surely this event would pull more than that though. Toyota's are one of the most common cars on our roads. I think only VW's would be able to compete. But what was the total amount of Toyota's recorded here? I'll get to that in a moment.



The selection of cars on display was intense. From your old school box shape Corolla's to the newer RunX RSi's. Slant fronts, bubbles, Yaris's, "Low-Lux's", 86's and everything in between!



Even this never say die Hi-Lux bakkie was there. In rather mint condition too.



The old faithful Stallion bakkie! I actually grew up with one of these… good times!



But wait, it gets even better! How's this old school TUV!!! When last did you actually see one of these on the road?!



Different strokes for different folks and that was the case for many of the cars on show. From rat rod looks…



To classic Japanese racers.



Nice tailpipe!



The classic TRD Liftback.



The black Supra of Wesley was an attraction all day long. Now I can understand why there was a car wash on site. Fingerprints on a black car isn't great.

Barloworld Kuilsriver brought one of the latest 86's on sale, the limited edition TRD.



Yours truly, we just had to bring it out of retirement. I can't even remember when last it saw a car event. As you can see the windows have been tinted so you can't see the roll cage and all the stickers have been removed making it somewhat of a sleeper now. But don't worry; it still packs a hard turbo punch! I think it's time this car see's the track again!



The car of the show for me undoubtedly had to be Poovern Ganesan's box Corolla all the way from KZN. What a beauty!



The parking lot was buzzing with the fanatical limbo competition. Guys were doing all sorts of crazy things just to get their cars that few millimeters lower. Packing the car full of people and even dropping tyre pressures just to make it through one more time. Some of the car's literally scraped through!



All in all it was an eventful day with the best thing being the variety of cars on display and things to look at. Being the first Toyota Fest event things didn't all go according to plan the organizers admitted. The weather being one of them. But well done nonetheless!



The organizers would like to thank each and everyone who attended! They've learnt a lot from this and promise to make the next one bigger and better! Amazingly they managed to raise about R50 000 and will be doing the hand over to Adopt-a-pet soon.



As for the official number of Toyota's that attended, it was a whopping 759! WOW!!! When we eventually left the event there were still so many Toyota's parked outside who couldn't get in. I think the next one can definitely reach the 900 mark. Who knows, maybe even a 1000? You're just going to have to come to the next one to find out!



Be sure to check out the full gallery below.

RaceMasteR J