JAGUAR KNYSNA HILL CLIMB 2014
Event date: 16-18 May 2014 | Words: RaceMasteR J | Photos: RaceMasteR J & Nishaam Ebrahim | Location: Simola Golf Estate.
< back



The beautiful town of Knysna, whom for the fifth time, were the hosts of the resident Knysna Speed Festival also known as the Knysna/Simola Hill Climb… 1.9km's of high speed uphill racing against the clock, a test of pure nerve and superb driving skill.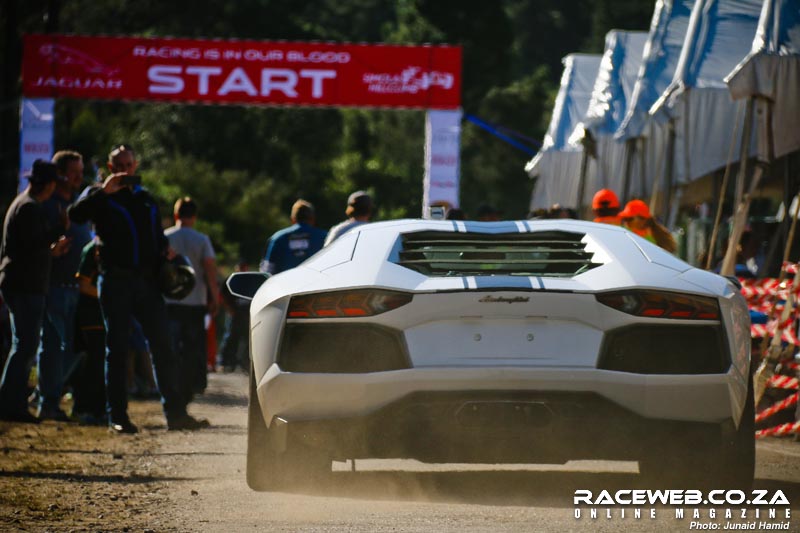 After their title sponsor pulled out in 2013, the town was left in its restful manner but come 2014, the organizers managed to secure a big fish of a sponsor, or rather, a big cat… Jaguar! With a glorious history and heritage of racing, this brand was the perfect fit to this event. With a massive banner hanging over the start line that states "Racing is in our blood", Jaguar came to impress.



An event for all sorts of speed lovers, it is without a doubt getting bigger and bigger every year. Though it always had a hint of Goodwood Festival, I surely wouldn't mind that kind of vibe on local soil. We just need a castle now. I guess Simola Hotel will have to make do.



Spread over 3 days, Friday to Sunday, we saw the older cars making their way up the hill on the Classic Car Friday. Saturday was qualifying for modern, exotics and race cars while Sunday was the main event and knock outs.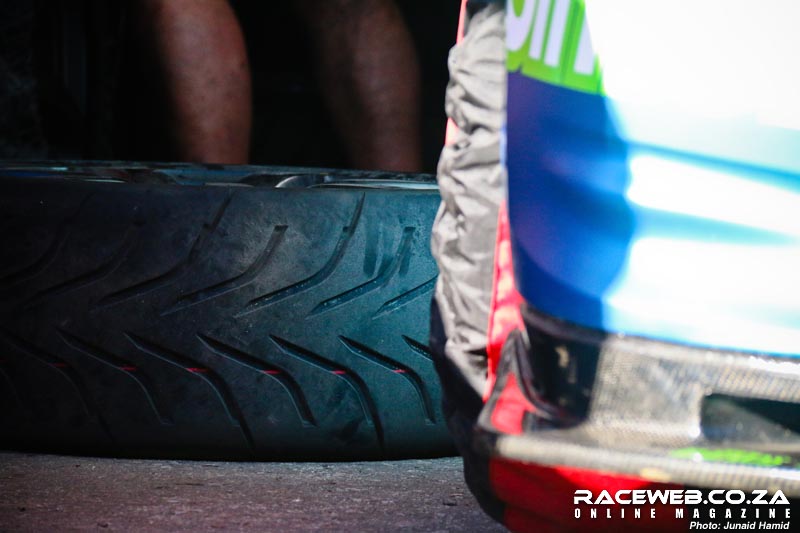 A spot of rain hit us on Friday night but saw a clear Saturday with a side order of very muddy. I once again made the mistake of wearing the wrong pair of shoes.



But with such fantastic machinery blasting their way up the hill I soon forgot about my wet soggy shoes and was treated to the sights of Aventador's flying past and the sounds of over 1000hp Skylines.



Though some competitors were initially cautious from the dusty and in some places wet track, the times eventually started to drop as the temperatures started to rise.



But for some people caution was merely a sign of weakness and they buried their right foot hard down onto the throttle but not always ending up where they supposed to be. Shane Martin and his Evo was the first victim to "hit it hard"!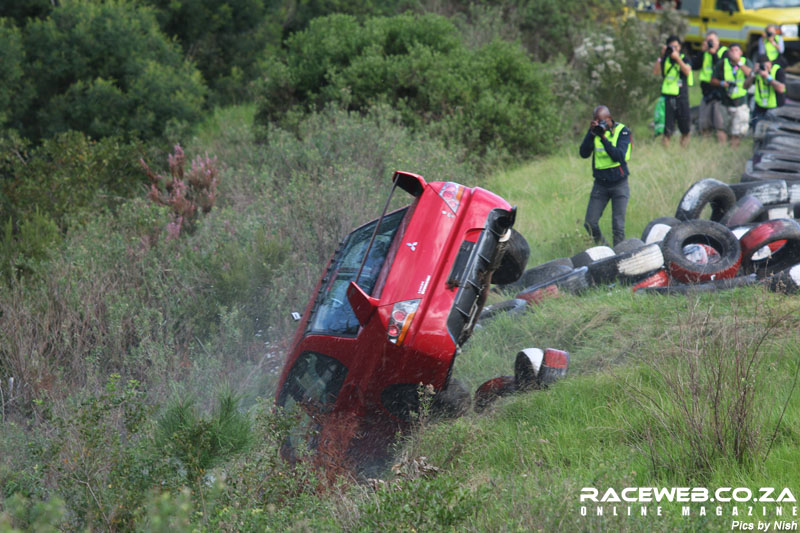 He came into the corner a bit too hot, lost traction, corrected, but managed to clip some tyres on the inside corner which spat him off in the complete opposite direction. Pity about the car, but we're glad you're OK Shane. Dust yourself off, panel beat the car and make sure you're back next year.



Just ask Shane Naidoo about that! Mr. Naidoo rolled his Audi S2 at the 2011 event but came back in 2012/2014 with an Evo 8… hmmm… does this mean Shane Martin will return in an S2?



Now I'm a huge fan of all things rotary and RX7 specifically, and even though this example had the Veilside kit on, something just didn't sit well. It was probably the loudest car at the event, louder than the Aventador yes!



Anton Cronje's bug eye Subaru WRX has come a long way. I remember seeing him run low 11 second passes at Wesbank Raceway many many years ago at the Ultimate Street Car Challenge. It seems to have morphed into a time attack animal now and was challenging for top spot. Although he eventually got knocked off P1, he still was a crowd favourite at the event.



Friend of Raceweb, Antony Ashley aka Mr. Nurbergring made the great trek all the way from Germany to compete here in his beloved Lotus 7 which we got to drive and feature a while back.



This event always attracts the big names like the Scheckter, in this case, Jaki.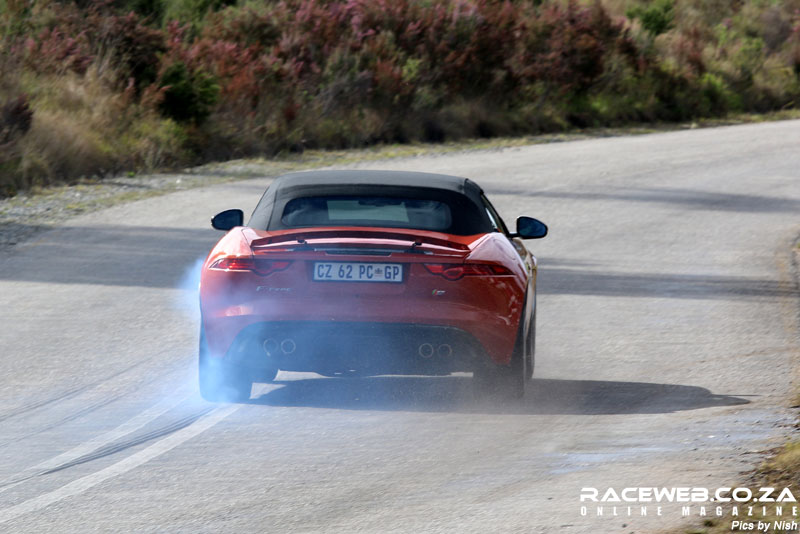 Being a Jaguar sponsored event, they treated some journo's in a media challenge. Fellow pit neighbor from my last hill climb, Deon Schoeman was piloting this Jaguar F-Type up the hill this year.

From all the journalists he seemed the most confident. Maybe a little too confident this time as he went into the S bends a bit too hot and ended up crashing it against the rock face. I heard this happen and it wasn't a pretty sound hearing metal twist, bend and bang against a mountain. He walked out unharmed. Thankfully!



GTR's… pick your colour and spec and chances are it was here.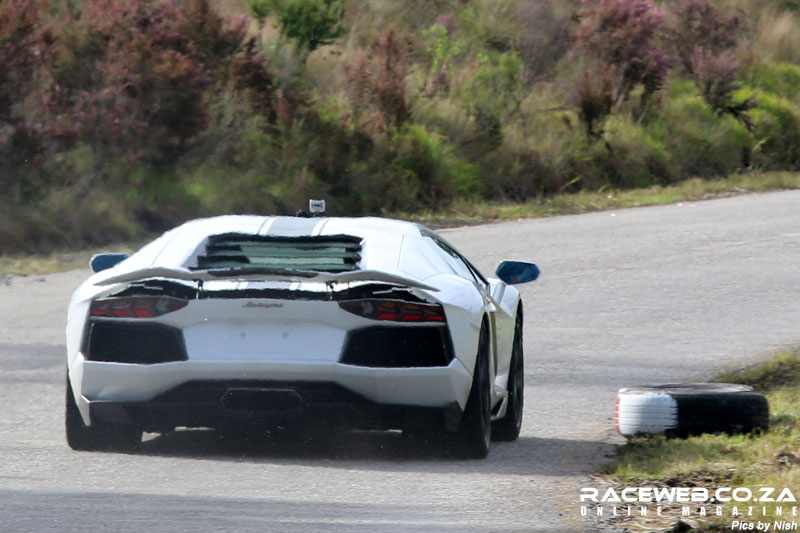 The great thing about this event is that it brings out all the big players. Guys with money and expensive toys who actually race them! I've seen many a super car before at Killarney, but never an Aventador giving it the beans! What an amazing orgasmic V12 sound that exited its tailpipe! Guaranteed to send chills down your spin.



But if there was one car that absolutely blew my mind was this! Dez Gutzeit's R32 MONSTER! It's said that the car is in the 1400hp region. If anyone knows Skylines it has to be the Dezzi family which was made famous by their white Top Secret Skyline R34 GTR who won the hill climb back in 2012 and the Ceres hill climb many years ago.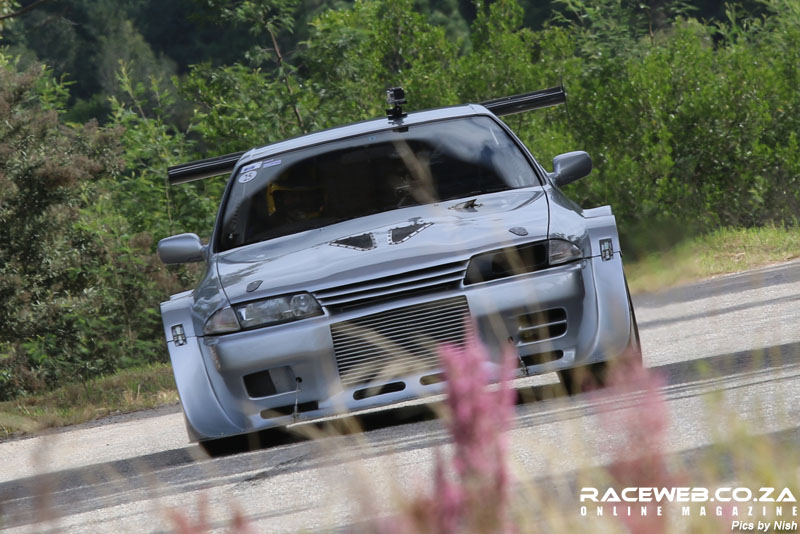 Hats off to Dezzi, he is a brave man who knows how to tame his beast. Launch control, build the boost, drop it like it's hot! Where other drivers would "tap" due to the car stepping out a little, Dezzi has his foot firmly planted while the car dances around on the hill. Truly a spectacular event to experience.



With heavy artillery from Ferrari's, Porsches, Lambo's, Atoms, Lotus's, Evo's, Subaru's, AMG's, M powered cars, McLarens to Jaguar's and everything else in between, it wasn't enough to catch the man of the event, Franco Scribante.

To put it bluntly, Franco came with what he had, kicked ass, kicked some more ass the next day and in that process made history by winning not only the Friday Classic event but the overall Hill Climb on Sunday too. Not to mention setting a new record time of 41.159 seconds.

Built in the 70's with less than 300hp, Franco's Chevron B19 race car was untouchable. Unfair some might say due to it being a full on single seater race car, but this is hill climb racing. Yes personally I would have loved for Dezzi to win it, I know he deserves it, but let's hope we get to see him and everyone else at next year's event. We certainly can't wait!
RaceMasteR J