GHFM REV LIFE 2013
Event date: 17 November 2013 | Words: RaceMasteR J | Photos by: RaceMasteR J, Nishaam Ebrahim & Chevan Davids | Location: Killarney Race Track.
< back



Let me start off by saying that getting this content up was somewhat of an uphill battle. What I mean is that between me, Vaano and Nish, we accumulated roughly just under 4000 photos for the day. I managed to knock it down to about 500 of the best, for your viewing pleasure.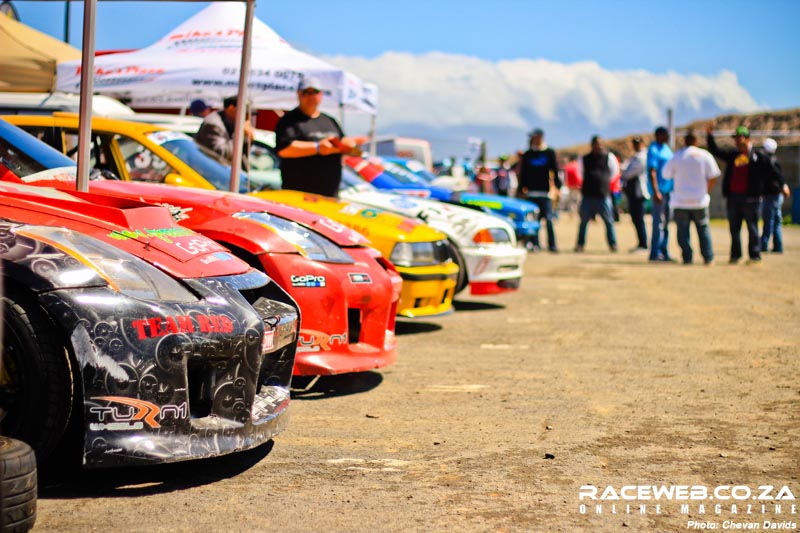 So the event, RevLife 2013… the name that was on everyone's lips for weeks on end, was sadly but thankfully postponed from the Saturday to the Sunday. The week prior to the event was filled with hours of heat and cloudless days, but as everyone was watching the weather forecast, Mother Nature had other plans. Come the Friday and Saturday it bucketed down just as the weather man said it would with flash floods in some areas. There was no choice but to postpone it to the Sunday.



There were guys down from all over the country and even our international guest, superstar drift ace James Deane all the way from Ireland.



The day started off damp but it was looking promising to become a great day as the weather cleared up.



My first stop was to the drag strip for some pure horsepower action supplied by the numerous locals and even a few special guests such as the team from Czank Racing with their sweet looking Escort and drag bikes.



Motown Racing's Ralph is always a crowd favourite with his rolling burnouts. I did later on in the day see him have a "late braking moment" which saw his car stopping just millimeters in front of the catch nets.



Something new to the strip was the introduction of the 4 wheeler biker mice on their quads. As funny as it was to watch, the poor COC's ended up pulling their hair out as these toys battled to stage.



As always, there are plenty of hidden gems milling around the pit area and in this case, a very stunning Lambo.



And some pretty promo girls who occupied the gents.



Bikers will be bikers… whatever that's supposed to mean…?



Raceweb sponsored rider Sharief Reynolds clocked the fastest time of the day on his awesome looking Kawasaki ZX14 with a time of 8.9 seconds.



The old pit area was a show and shiners heaven filled with an array of cars from slammed and bagged to race inspired machines.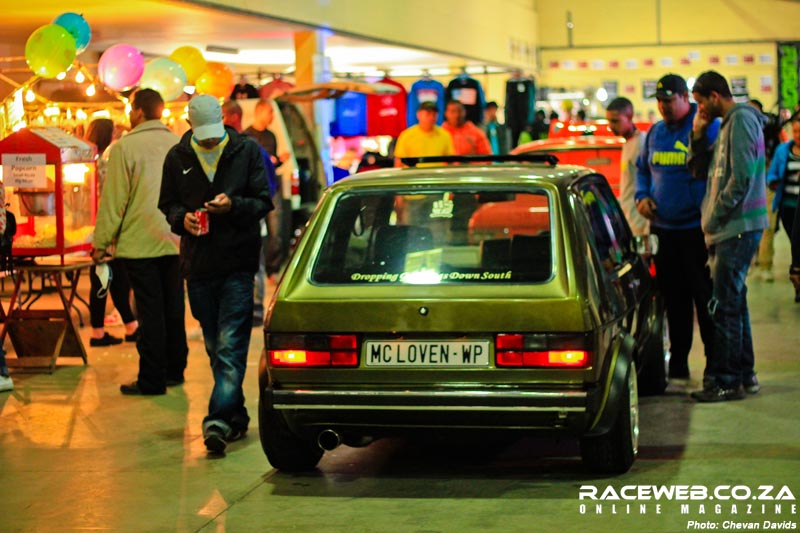 While the new pit area played host to a lifestyle area filled with stalls, show cars and a massive food court area and huge big screen keeping everyone up to date and entertained with what's happening on the oval.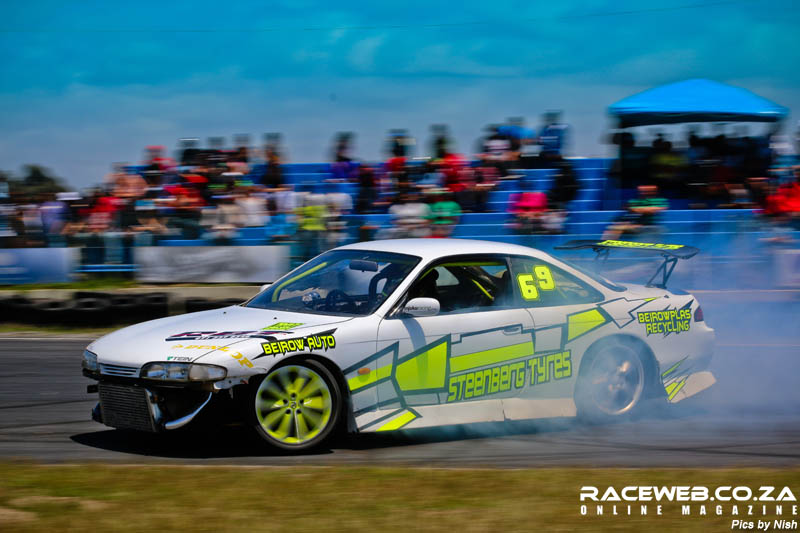 Which is where I went next as this was the main reason for all my excitement. DRIFTING!!!



Upon arrival at the oval I was greeted by this comical yet awesome sight of Mag Addictions 2J powered Hilux bakkie going sideways. I say comical because it's a Hilux bakkie!!! Awesome because… well just look at it! And you had to be there to hear its massive turbo spooling up and screaming.



The boys and girls from D1S kept the crowds entertained with their highly choreographed stunts and tricks between drift practice runs.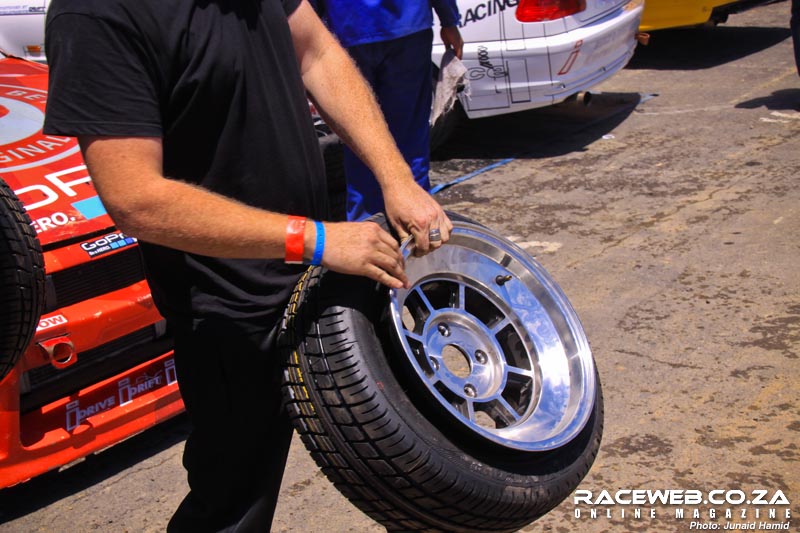 While the main stage performers were frantically changing rubber in the pits…



Though others preferred to look their best at all times.



With practice done and dusted it was time to move onto qualifying. But unfortunately as motorsport goes, cars break and we saw an unfortunate drop in numbers.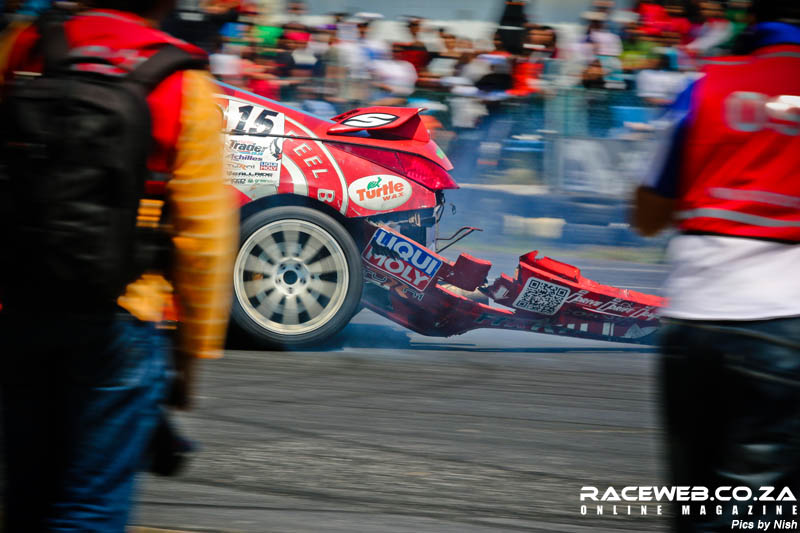 But the rest of the guys soldiered on and put up an awesome display of sportsmanship and skill.



Shane Green was back but this time in a new turbo charged E30.



Jason Webb, current SA Drift Champion, was out to dominate with his crazy angle and entry speeds.



Undoubtedly THE crowd favorite, Sean February was out to mark his territory on home ground smoking the crowd's from corner to corner.



As always I was glad to see Faheem Salie back in the hot seat but sadly this didn't last long on the day.



Jim Mc Farlane was somewhat of an underdog to me, simply because his car wasn't as loud as the rest, but proved to be very dominant showing a clear skill advantage to some of the other guys when he could get right up close and personal with some crazy door to door action but keeping it neat and tidy at all times.



Mikey Skelton from XS Promotions, the company responsible for bringing us the National SupaDrift Series was also having a go in his Rockford Fosgate Nissan 350Z.



Photo whore Jean Mare was having a ball of a time as usual with his new look BMW M3. I just loved shooting this car as it always looked so "pretty" in pictures.



Representing the boys from abroad was Zein Raidan in his awesome looking Nissan R33 Skyline. This car is the complete package, it looks great, goes great and sounds great too! Brilliant driving skills as well Zein!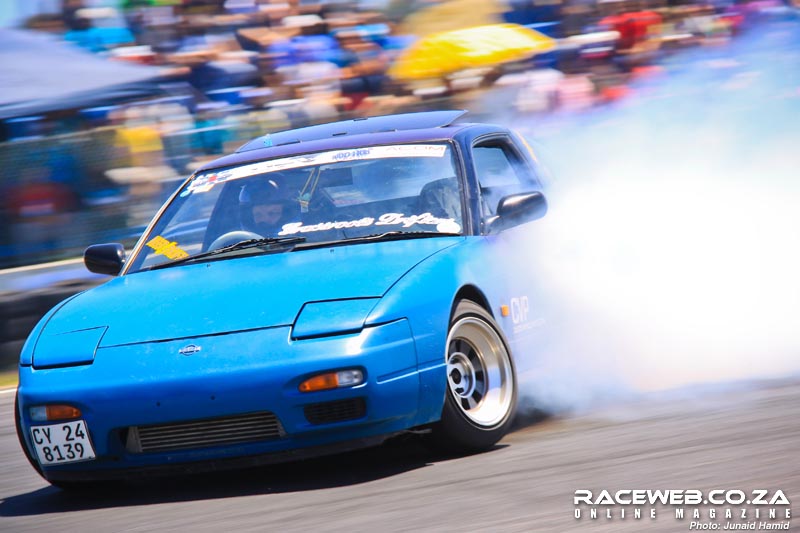 My driver of the day has to be this crazy chap by the name of Jade Bailey in his everyday ride, an JZ powered Nissan 200SX. Jade has shown tremendous skill improvements over the last couple of months and all his Grass Roots practice time has clearly paid off.



But Jade had guys like Typie Khan to worry about as this 1J E30 Beemer was ripping up the track like tomorrow was Monday, because it was!



Bronnie was back in yet another new car which showed great potential but sadly retired early due to mechanical failures.



But this was the man we all came to see, James Deane. Piloting Noer Asmodiens 640HP Toyota Supra it was clear to see he was going to be the dominant force to be reckoned with on the day. Practice and qualifying was a breeze for him executing exactly what the judges asked for but, once again, unfortunately he retired early due to gearbox breakage. I was so looking forward to see him battle it out with Jason Webb.



But that left a spot open for local hero Sean February to fill and boy did he fill Jason Webb's bodywork with it!



First Jason tapped Sean, that's when my brand new GoPro decided to grow wings and fly off the car, and then Sean returned the favour causing Jason to spin out.

Check out the video below...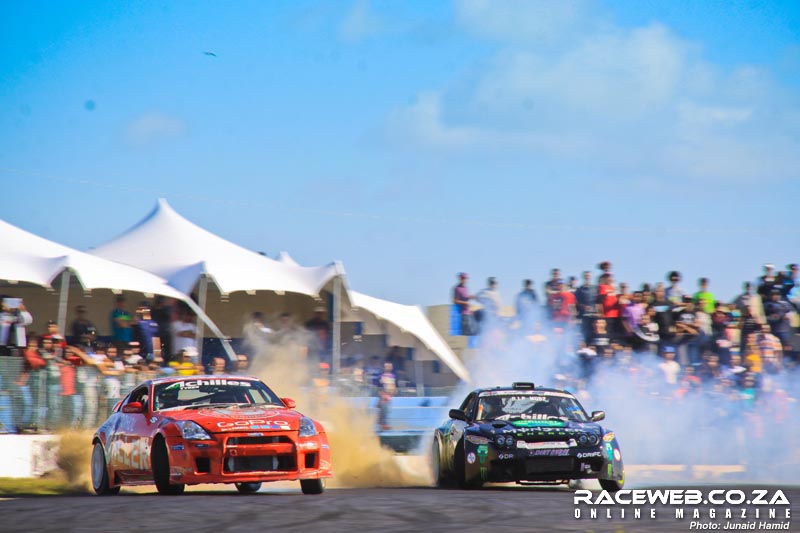 A somewhat skeptical result for some, but it saw Jason Webb head into the finals against the underdog, Jim Mc Farlane, while Sean battled against Shane for third place.



In the end it was current SA drift chap Jason Webb who took top honours which left Jim in second, Sean third and Shane in a well deserved fourth place.



After some tyre smoking victory burnouts the spinner boys put up a show for the crowds who decided to wait on the stands rather than in the queues to get out of Killarney.



All in all it was a good day, but the change of date and some other factors that were just not in the organizers hands could have made for a great day. The action was good, but left me wanting more. The time between some runs could have been cut shorter also. But I guess being a petrol head like myself, I just can't always be satisfied. Bring on Wings & Wheels!

PS: Alcohol should be banned from all motorsport events! Period!

RaceMasteR J